Crown Prince Mohammed bin Salman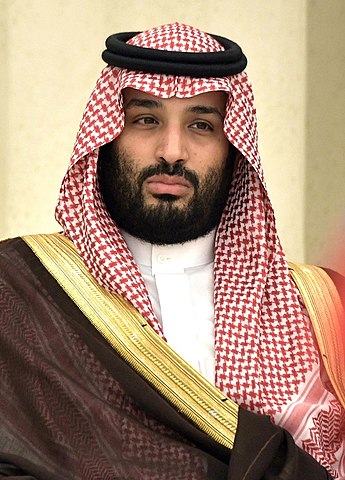 Mohammed bin Salman Al Saud (Arabic: محمد بن سلمان آل سعود, romanized: Muḥammad bin Salmān ʾĀl Su'ūd; born 31 August 1985), colloquially known by his initials MBS or MbS is Crown Prince and Prime Minister of Saudi Arabia. He also serves as the chairman of the Council of Economic and Development Affairs and chairman of the Council of Political and Security Affairs. He is considered the de facto ruler of Saudi Arabia, being deemed as such even before his appointment as prime minister in 2022. He served as minister of defense from 2015 to 2022. He is the seventh son of King Salman.
At the inaugural Future Investment Initiative conference in Riyadh in October 2017, Mohammed announced plans for the creation of NEOM, a $500 billion economic zone to cover an area of 26,000 square kilometres on Saudi Arabia's Red Sea coast, extending into Jordan and Egypt. NEOM aims to attract investment in sectors including renewable energy, biotechnology (especially genetically modified agriculture), robotics and advanced manufacturing.
Related Articles